International education services company BMI is excited to introduce institutions to new recruitment and partnership opportunities dotted across fresh territory in China's landscape via its brand new event: the BMI T2 China Agent Roadshow.
Taking place in three Tier 2 cities over six days, the new event will follow a roadshow format, with BMI's expert team escorting a limited number of institutions across China to meet face to face with local student recruitment agents who have been vetted for quality, integrity and professionalism.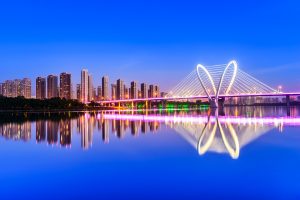 The event schedule includes a series of one-to-one meetings in each city with pre-screened education agents as well as various networking functions in 5-star venues as follows:
Hangzhou:  11 Nov 2019
Chengdu:  13 Nov 2019
Shenyang:  15 Nov 2019
Recruiting Students in China's Tier 2 Cities
As the world's biggest student recruitment market, China is no stranger to international education. Yet most institutions tend to focus on classic Tier 1 cities such as Beijing, Shanghai, Guangzhou and Shenzhen. Meanwhile, its Tier 2 cities boast massive improvements in infrastructure, huge inward investments and an increasingly skilled and wealthy workforce.
Although the tier system is not officially recognised by the Chinese government, with over 600 cities across the country, colloquially many have been grouped into four tiers according to their GDP, population and consumer sophistication. For example, Tier 2 cities have a GDP between USD 68-299 billion and a population of 3-15 million people.
Tier 2 cities such as the ones visited on the BMI Agent roadshow are undergoing rapid expansion, yet are not often visited by international student recruiters and foreign universities, which makes this new event all the more valuable.
BMI's Director of Special Projects Spencer Hawkes explains, "For over 30 years, BMI has been running events across Latin America, Brazil, the Middle East and Asia. We knew that when the time was right, we would add China to our roster and we're really looking forward to the event launch in 2019. In a country as vast and complex as China, institutions will certainly benefit from our personalised service and chauffeured travel arrangements. Plus, we've partnered with Bonard to help us invite only the most relevant, high-quality agents from these cities."
Working from their office in Tianjin, China, education industry research firm Bonard (formerly known as Student Marketing) will manage a multi-platform agent recruitment campaign to attract and engage relevant, carefully vetted agencies. Speaking about the partnership, CEO Samuel Vetrak commented, "We are pleased to partner with BMI and help them with their expansion into China. Their events are highly popular, so is China as a source market and the BMI Agent Roadshow T2 China will be a great opportunity for local agencies to meet educational institutions from all over the world. Our team of researchers and recruiters based in China is ready to help and use their local presence and knowledge, strong network of contacts (guanxi) and years of experience in recruiting reliable agencies from China and other markets."
Due to the boutique nature of the event, spaces are limited. Institutions are encouraged to express their interest in joining as soon as possible via the website or by contacting BMI.
About BMI
Established in 1987, BMI offers a variety of solutions to provide international education professionals with a multi-touch recruitment strategy covering both online and offline activities across Asia, Brazil, Latin America and the Middle East. BMI holds over 60 events in more than 20 cities across 13 countries every year.
BMI has organised nearly 1,000 education events across five continents, which more than two million students have attended. BMI's online marketing solutions also enable institutions to connect with over 1.2 million students a year. The company is a proud partner of UNICEF and works with national government bodies including The British Council, Education in Ireland, EduCanada, Education USA, the European Commission and the Ministries of Education of almost every European country as well as dozens more around the world.
About Bonard (formerly StudentMarketing) is a leading provider of market intelligence, market research and strategic advisory in international education. Since its establishment in 2007, the company has become the go-to address for governments, destinations, associations and education institutions around the globe that are looking for research as well as research-driven strategies and solutions in recruitment and marketing. Bonard is a UNWTO Affiliate Member, with individual memberships in the world's premier market research association ESOMAR. For more information, please visit: www.bonard.com.
Media enquiries:
Phone: + 44 208 952 1392
Email: Rupert@bmiglobaled.com
---