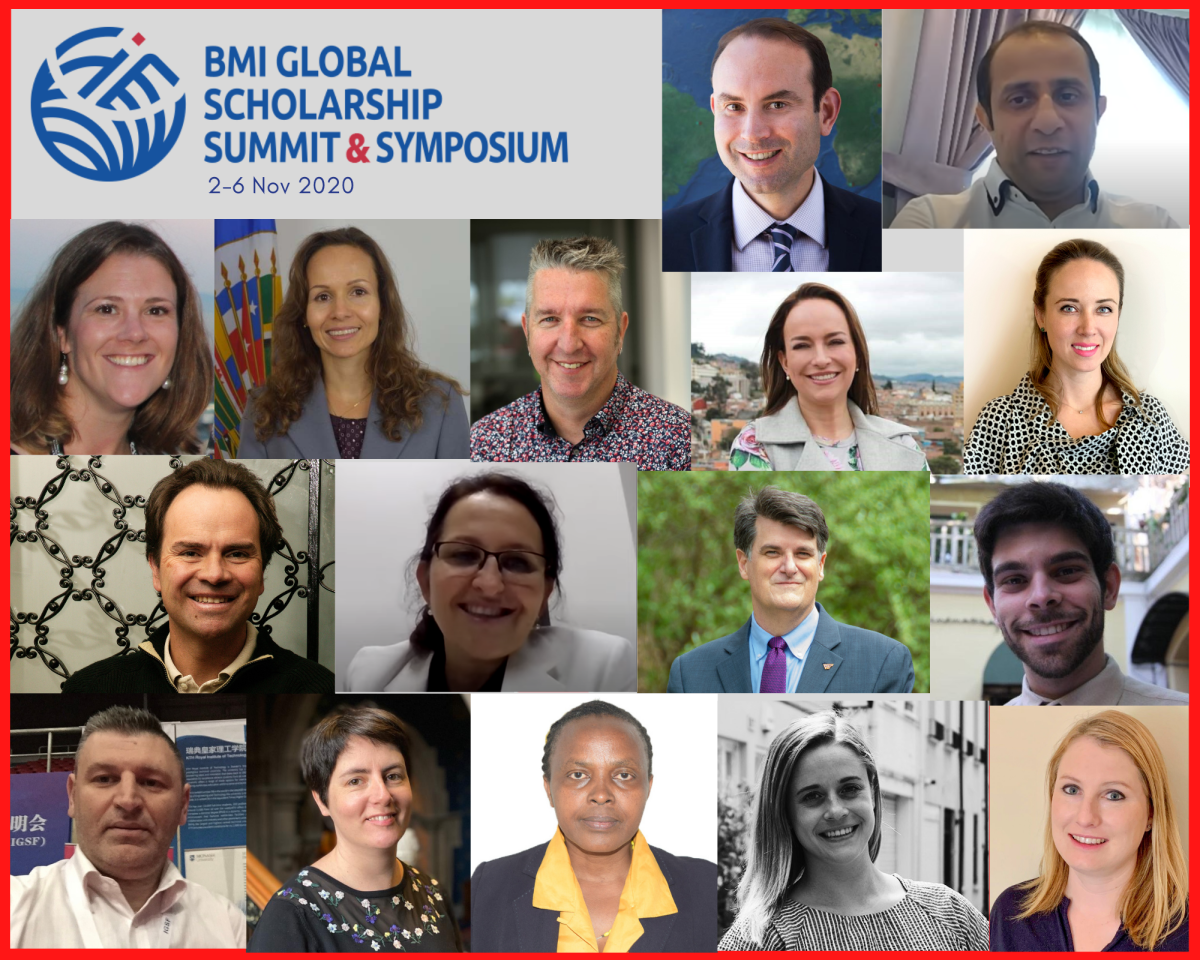 In early November, industry professionals from one corner of the globe to another met virtually at the first online edition of the BMI Global Scholarship Summit & Symposium to connect in dozens of meetings and facilitate partnerships which support fully-funded or government-sponsored students. Attendees were also able to participate in dialogues to learn best practices and exchange new ideas about how to tackle the challenges of 2020 and prepare for the year ahead.
Below is a brief overview of some of the insights shared at the inaugural online Symposium written by Jackie Kassteen, Symposium Director and owner of event partner Jackfruit Marketing. Recorded sessions can be viewed on the event microsite, along with an extensive video library of content to learn more about the institutions and organisations that attended the week-long event.
The 2021 event online edition is scheduled for May 10-13. Due to the unique nature of the BMI Global Scholarship Summit & Symposium, spaces are limited so institutions and scholarship organisations are encouraged to register their interest as soon as possible via contacting BMI.
Priority areas and degree demand
Education providers in Australia and New Zealand have seen more interest in graduate and postgraduate degrees, particularly in allied health fields. Along with an omnipresent interest in computer and data science, AI, engineering, medicine and life sciences, scholarship providers are also reporting rising interest in fine arts, tourism and hospitality (especially from the Gulf).
Meanwhile, in South Africa, funding providers are placing more focus on interdisciplinary studies, climate change, sustainability, and new energy sources.
Colombia-based ICETEX is putting increased emphasis on social sciences, humanities, and health sciences as well as undergraduate and short-term courses. Like most programmes, mobility has been cancelled since March 2020; look for their announcement in March 2021 to learn about funded mobility options for Summer 2021 and beyond.
OAS's interest-free loan programme is focused almost exclusively on online programmes for 2020 and 2021, particularly those that relate to four areas of interest (strengthening democracy, human rights, multidimensional security and integral development). The organisation also prioritises programmes in life sciences, STEM, sustainability, food production and security, emergency preparedness, environmental studies, big data, and lifelong learning initiatives.
The interest in work-integrated learning and gaining work experience abroad continues to remain strong, with a special presentation led by Canada highlighting the benefits of experiential learning opportunities at universities and colleges across the country. Opening plenary speaker Jonah Kokodyniak, Senior Vice President at IIE, cited their example of collaboration with the private sector to offer more support for leadership development, critical thinking skills, and work experience. The Cargill Global Scholars Program enables students to receive mentorship from Cargill employees to help them identify short and long term academic and professional goals, working one-on-one with industry mentors to reach these goals through training, networking and ongoing communications.
2020/2021 trends
The good news is that Covid-19 has not dampened the appeal of international exchanges; interest is still strong among students to go abroad in 2021 and applications for scholarships are at record highs. The economic recession could be a stronger mobility driver now, perhaps as a reflection of brewing affordability issues or because a flat job market incentivises students to pursue grad and postgrad degrees. As competition for scholarships heats up, it puts added pressure on funding providers to find new financial models or reconsider the criteria used when selecting student recipients.
Funding providers are also expected to re-evaluate institutional partnerships, placing increasing emphasis on the student experience and health and safety protocols, as opposed to an overreliance on rankings. For example, ICETEX observed that student satisfaction is now about getting guidance and personalised support, explaining that as an organisation, they have never had to monitor their funded students as closely as they've had to in 2020. Our South African government panellist concurred, citing a strong need for mental health services and psychological counselling, which they had to provide remotely for their students since they found that student support varied greatly from one institution to the next.
Increased interest in transnational education (TNE)
With mobility restrictions in place, institutions are turning even more attention towards TNE options such as credit transfers, dual-degree programmes, and virtual exchanges.
In a direct response to this demand, BMI is excited to announce the launch of a new virtual Partnership Workshop Series for Spring 2021. Designed to increase your connections and strengthen your relationships with university partners, agents and school counsellors in Southeast Asia, the Middle East, Brazil and Latin America, BMI provides you with a concise format to meet three different types of partners in one event, with each workshop focused on a different geographic region.
To support and strengthen internationalisation partnerships and academic training opportunities, ICEXTEX was also pleased to announce their new hemispheric-wide initiative with the U.S. Department of State. The 100,000 Strong in the Americas Innovation Fund competition will provide up to ten grants of US$26,175 each to support bilateral higher education partnerships that will create and implement innovative academic exchange opportunities for students in both countries starting in Fall 2021. Thematic areas in this new funding competition include convergent technologies, oceanography, creative and cultural industries, sustainable energy, social sciences, health sciences, space science, biotechnology, distance education, economic empowerment, sustainable agriculture, water/sanitation/hygiene (WASH) and STEM.
Scholarship funding
In more good funding news, our Kenyan speaker reported that there's been a marked uptick in philanthropic support from within the country to help its students go abroad.
Meanwhile, we heard that commitment to achieve the Saudi Vision 2030 remains high and as such, the government raised the monthly stipend that scholars receive and announced that they've refined the number of institutional partners down to just 70 based more on rankings and the quality of student outcomes.
The global pandemic has inspired donations to help international students as well, with organisations and universities alike reaching out to alumni for contributions towards hardship funds to help make ends meet during the crisis.
Meanwhile, other regions of the world are experiencing a reduction in scholarship funds, such as in Mexico where funding has been cut and as a result, organisations are keen to find new ways of providing financial support for students, exploring new financial models, and establishing additional new partnerships.
In Colombia, the currency devaluation has created more challenges for families and funding providers. Despite this hurdle, Colfuturo was able to maintain the number of scholarships provided to students for the 2020/21 academic year (1300 each year). They anticipate increased demand for destinations offering a lower price point on tuition and living expenses (e.g. Europe as opposed to the USA).
Speaking of Europe, Hungary reported that funding is expected to be cut for short term teacher training and language programmes.
And finally, with budgets under pressure and anticipated cuts to come, the South African government is looking cautiously for new partners and is more interested in firming up relations with existing partners to help share the cost of scholarships in 2021/22.
The online experience now and in the future
Whilst Covid-19 has forced educators to make huge leaps forward in the remote teaching arena, most of the speakers agreed that although this has been beneficial for learners, virtual experiences can never quite replicate physical ones. Access to digital tools (computers, Wi-Fi, affordable data connections) as well as dedicated, quiet study spaces still remains a challenge for many students around the world, and education providers need to continue to strengthen teacher quality and training so institutions can deliver a high quality experience online.
The majority of panellists throughout the week felt that "online education is here to stay" and that both governments and employers will now be more accepting of it when evaluating student credentials. However, whether scholarship organisations continue to provide funding for online education remains to be seen. Some funding providers (such as OAS and Saudi Telecom) are supportive of online and even prefer it, whereas others (Colfuturo, South African Ministry of Higher Ed) felt that it's an ideal solution whilst mobility is limited, but once that resumes, the focus will drift away from remote learning and back towards physical study abroad experiences.
One thing remains clear: the expansion of digital literacy and technological infrastructure has ushered in the beginning of a new era of experimentation, contingency planning and flexibility. The months and years ahead will be an exciting time for international education providers to further enhance the student experience and to find new ways for our students, and for each other, to connect globally.
About BMI
Established in 1987, BMI offers a variety of solutions to provide international education professionals with a multi-touch recruitment strategy covering both online and offline activities across Asia, Brazil, Latin America and the Middle East. BMI holds over 80 events in more than 20 cities across 13 countries every year.
BMI has organised nearly 1,000 education events across five continents, which more than two million students have attended. BMI's online marketing solutions also enable institutions to connect with over 1.2 million students a year. The company is a proud partner of UNICEF and works with national government bodies including The British Council, Education in Ireland, EduCanada, Education USA, the European Commission and the Ministries of Education of almost every European country as well as dozens more around the world.
About Jackfruit Marketing
Jackfruit Marketing is a boutique consultancy, project management and training company, offering marketing expertise in the international education industry. They specialise in branding, recruitment and retention strategies through the use of online and offline marketing techniques, social media, alumni engagement, agency partners, product development, as well as competitive analysis and research. Owner and Managing Director Jacqueline Kassteen regularly gives training sessions, interactive masterclasses and plenaries around the world for audiences as large as 1500 people.
For more information, please visit jackfruitmarketing.com.
Media enquiries:
Phone: + 44 208 952 1392
Email: Rupert@bmiglobaled.com
---