BMI's TalkGlobalStudy fairs make in-person events safe and even more Accessible due to quick response
With the world slowly returning to in-person events, two questions linger on everyone's mind: "Will people attend? Will it be safe?"
As recent events in the UAE have just proved, the answer to both questions is a resounding "Yes!"
This past week, over 50 exhibiting institutions flew in from 15 countries to attend BMI's events in the UAE and over 4,000 students and parents eagerly joined their fairs.
In a world-first, BMI set up an onsite PCR Covid testing centre at the entrance to their UAE Talk Global Study International Education Fair to deliver high speed results for attendees.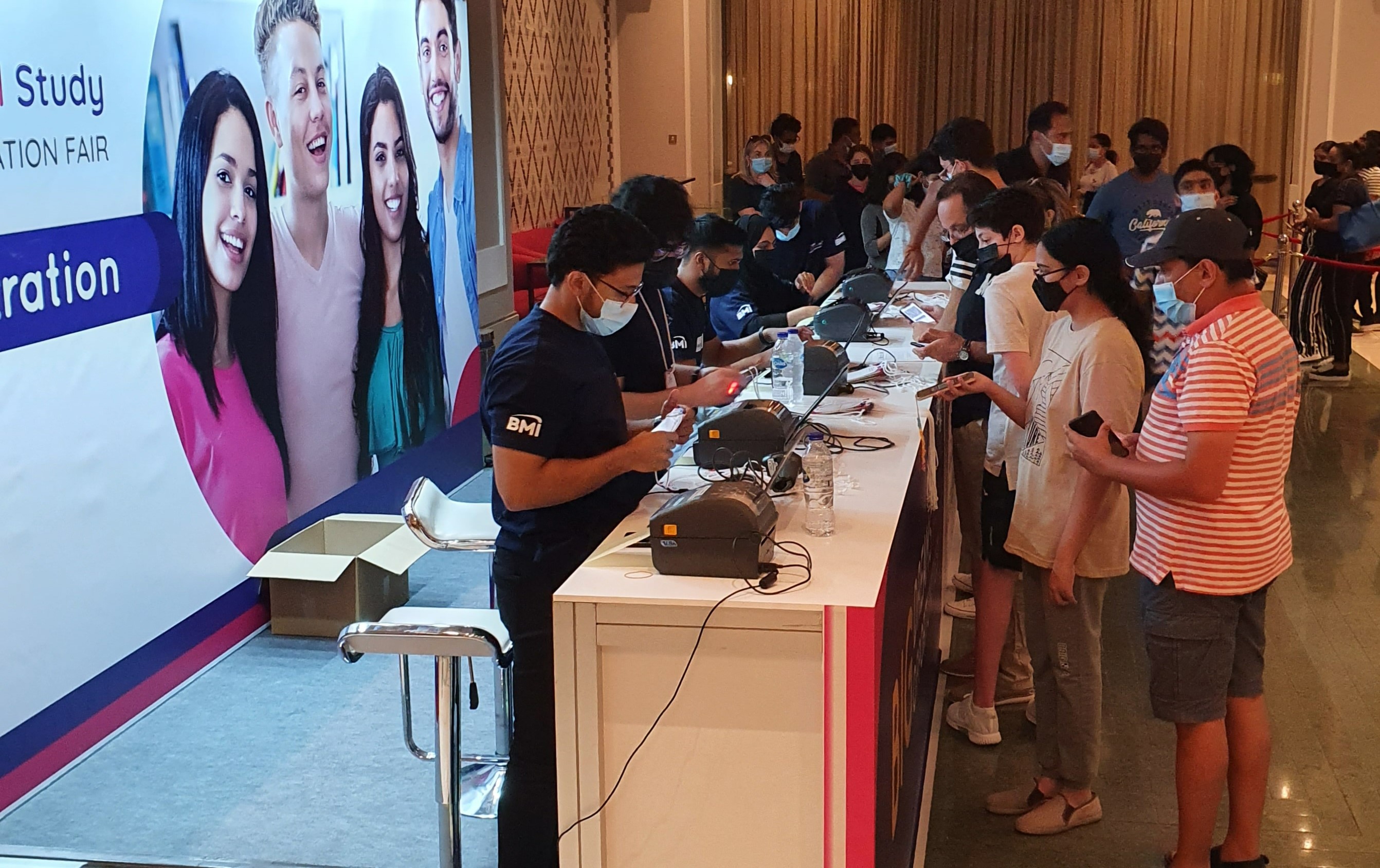 The need for speed
In a post-Covid world, there's bound to be a few surprises when it comes to physical events.
Due to a late change in health regulations, all participants (visitors and exhibitors) to events in Abu Dhabi required a negative PCR test result within 48 hours of the start of the event.
Students in the UAE get tested at school every few days but those results come through in two to four days, so they wouldn't have met the entry requirements. In the UAE, standard PCR tests are readily available and cost 50 Emirati Dirhams (about £10). Those results take six to ten hours.
"We simply needed something faster," stated Samir Zaveri, CEO and Founder of leading international education event company BMI.
Zaveri explained the challenges they faced around getting quick test results: "This new regulation could have severely impacted the attendance to the fair. We've been running events for over 30 years and we've always been committed to providing accessible opportunities for students all over the world. This last-minute regulation change presented a barrier to access, so we sprang into action and worked with a local clinic to set up a testing centre practically overnight. We were able to test at the entrance onsite and ensure that everyone who wanted to visit the participating global universities was able to do so, cost-free."
BMI paid for students' tests which allowed them to attend in a safe, accessible environment. Many international universities who travelled to the event also took advantage of the test facility.
"We were happy to invest in the health and safety of students, and to enable all of them to get access to the fastest tests in the region. Even at Dubai's innovative Expo 2020, drive-through PCR testing centre results take four hours. Our visitor's results were back in just 90 minutes."
An unmistakable hunger to reconnect with one another face to face
All participating institutions rated the event excellent both in terms of quality and quantity of visitors, and also lauded BMI's Covid Safe Policy which exceeded standard local health regulations by also requiring all visitors to be temperature checked and to wear a mask in the event.
"Hugely successful is an understatement! BMI is a true pioneer in how recruitment events should be planned and implemented! Kudos to the entire team for ensuring we had a safe and prosperous series of events both in Dubai and Abu Dhabi," enthused Jeff Jones, Director of International Initiatives at Savannah College of Art and Design in the U.S.A.
BMI's student recruitment fairs attracted even larger numbers than before the pandemic, about 7% more attendees in fact. "We knew that the industry was ready to return to in-person recruiting events and we knew from the number of students who had pre-registered for the event that we would have a great turnout, but I don't think we fully anticipated the demand from students and their parents – almost 50% of students came with their parents," said Zaveri.
He continued: "Here at BMI we've been talking about pent-up demand and the possibility of two years' worth of applications in a single year, but it's only when you're standing in the middle of a very busy fair and you can see this in action that the magnitude of the opportunity becomes clear. Parents in particular were extremely keen to establish the quickest possible routes for their children to study abroad."
Andrea McLeod-Karim, International Regional Manager at Victoria University of Wellington, New Zealand agreed: "It was an incredibly well organised event. Good safety protocols in place and super busy with student queries throughout each day. It's wonderful to be back on the road and meeting students and counsellors once again."
In-person student recruitment here to stay

The week-long event series started with the BMI International Schools Forum & Workshop – a unique gathering of almost 60 counsellors from the UAE and across the region. Held in Dubai, this event enabled visiting international universities and colleges to hold one-to-one meetings with high school counsellors from the most prestigious international and bilingual schools in the region.
"High school counsellors are extremely important in the Gulf and our event allows tertiary institutions to have meaningful, private meetings with counsellors and then network with peers at our reception, lunch and coffee breaks," explained Zaveri. "It would take weeks of international travel to meet this many key influencers within such a short time."


Julie Dass, Head of International & UK Student Recruitment at King's College London, summed it up best: "These were great events – an excellent return to the UAE and we're looking forward to more!"
They won't have to wait long. Next month in November, BMI continues to reignite in-person events with international student recruitment fairs in Mexico and Colombia. "We decided to begin slowly in the fall of this year with just a few events where it is safe to do so but in 2022, we have a full schedule of over 80 student recruitment events for institutions," confirmed Zaveri.
A full event calendar for Asia, India, Europe, Africa, North and South America can be accessed on their site at https://bmiglobaled.com.
About BMI
Established in 1987, BMI offers a variety of solutions to provide international education professionals with a multi-touch recruitment strategy covering both online and offline activities across Asia, Brazil, Latin America and the Middle East. BMI holds over 80 events in more than 20 cities across 13 countries every year.
BMI has organised nearly 1,000 education events across five continents, which more than two million students have attended. BMI's online marketing solutions also enable institutions to connect with over 1.2 million students a year. The company is a proud partner of UNICEF and works with national government bodies including The British Council, Education in Ireland, EduCanada, Education USA, the European Commission and the Ministries of Education of almost every European country as well as dozens more around the world.
Media enquiries:
Spencer Hawkes – Sales Director, BMI
Email: Spencer@bmiglobaled.com
Phone: + 44 208 952 1392
---