As competition for international students continues to intensify and institutions endeavour to diversify their enrolments further, a new report shines the spotlight on Mexico – a country with 126+ million people, with 50% of households in urban areas identifying as middle class. The report, produced by international education services companies BMI and Jackfruit Marketing, is packed with statistics and practical tips to help institutions better understand the country's education and recruitment scene.
The free, 60-page report contains various sections such as:
Student enrolments in Mexico
Enrolments in key destinations
Market trends
Tips on improving your results in-country
Combining data with on-the-ground experience in Mexico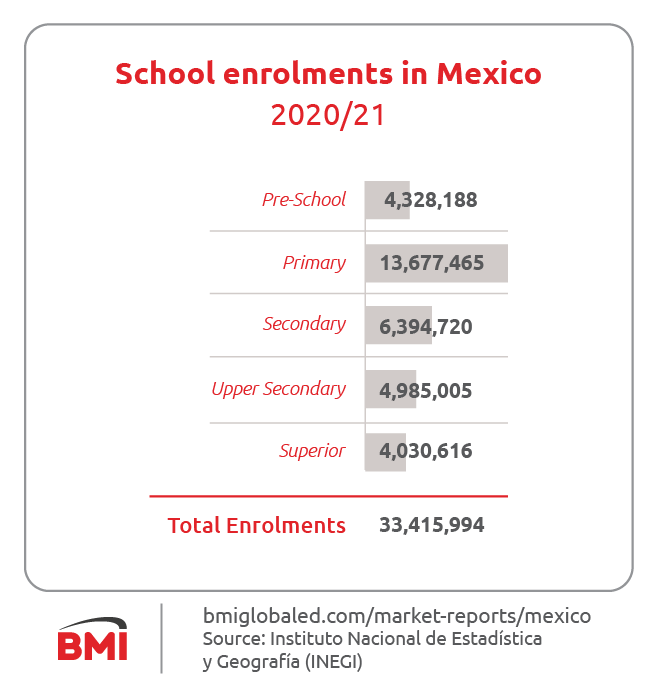 The full report provides a review of Mexico's enrolments across key states in the country, and presents a lengthy track record of statistics for 12 destination markets. Mexico's story is further played out via a wide range of figures and insights covering the economic landscape, social media, latest trends and growth opportunities.
This latest piece of research continues to help higher education leaders to:
Understand the strength of Mexico as an international education market and source of student recruitment.
Discover how the market is changing and where enrolment opportunities exist.
Learn tips and best practices in order to build links with key players in Mexico.
Report author and owner of Jackfruit Marketing Jackie Kassteen commented, "Our desk and field research gives educators the data and insights they need to understand Mexico's education evolution, trends and challenges. We look forward to helping institutions use our findings to guide their marketing, recruitment and internationalisation strategies, especially for those who need to build brand presence and capture or win back market share as Mexico's outbound demand patterns continue to evolve."
While the US has always had a strong pull for Mexicans, the diversity of top destinations and increasing interest in non-English speaking countries illustrates Mexicans' appetite for adventure and desire to go after a particular programme, no matter where it is in the world. The report traces over 20 years of enrolment data and mobility trends, plus shares the reasons for changes in preferences.
BMI's Sales Director Rupert Merrick explained, "This is the third report BMI has co-produced with education marketing experts Jackfruit Marketing. Based on the appeal of previous reports on Vietnam and China's Tier 2 Cities, we knew that international educators would be keen learn more about one of Latin America's most powerful markets. We've been supporting outbound mobility in the region for more than 35 years, and we're excited to help more institutions tap into Mexico's potential."
Student Recruitment Events Across Mexico
BMI has a long history of connecting universities, pathway providers and language schools with qualified students and working professionals who are planning their study abroad experience. Through a series of events taking place in Mexico and moving down into Latin American countries such as Colombia, Chile and Peru, you can meet students, families, high school counsellors, principals and scholarship providers twice a year. In addition, their TalkGlobalStudy virtual fairs provide easy access to prospective students and multiple avenues of online engagement. View both in-person and virtual events in Latin America >
About BMI
Established in 1987, BMI offers a variety of solutions to provide international education professionals with a multi-touch recruitment strategy covering both online and offline activities across Asia, Brazil, Latin America and the Middle East. BMI holds over 80 events in more than a dozen countries every year. BMI has organised nearly 1,000 education events across five continents, which more than two million students have attended. Through Viva-Mundo, BMI's online marketing solutions also enable institutions to connect with over 1.2 million students a year. The company is a proud partner of UNICEF and works with national government bodies including The British Council, Education in Ireland, EduCanada, Education USA, the European Commission and the Ministries of Education of almost every European country as well as dozens more around the world.
About Jackfruit Marketing
Jackfruit Marketing is a boutique consultancy, project management and training company, offering marketing expertise in the international education industry. They specialise in branding, recruitment and retention strategies through the use of online and offline marketing techniques, social media, alumni engagement, agency partners, product development, as well as competitive analysis and research. Owner and Managing Director Jacqueline Kassteen regularly gives training sessions, interactive masterclasses and plenaries around the world for audiences as large as 1500 people. For more information, please visit jackfruitmarketing.com.
Media enquiries
Phone: +44 208 952 1392
Email: Rupert@bmiglobaled.com
---